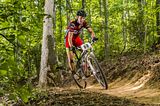 Click pic, this photographer made me sort of look fast!
This was the 4th race of the Chainbuster 6/9 hour race series for 2012 held just south of Athens at Heritage Park. I think I was the only FM rider there, being only an hour away from my house I wanted to try and race this event. It's not often you get races that close to home so I wanted to take advantage of it. Forecast was for possible rain and it did rain a little but it was pretty much a perfect day.
My goal for the day was to try and get in 6 laps which I did with about 5 minutes to spare. Fun day, this course really hurt on the 5th and 6th laps. So many twists, turns and roots I was really wanting a full-suspension. I ended up 6th in the sport class.
Good times, good times.